6 Apr
This post is written as part of the Unstuffed Blog Tour, which I am excited to be a part of along with many other inspiring bloggers. To learn more about the blog tour and join us, click HERE.
As you may have guessed if you've been reading this blog for any amount of time, I love to organize. I love being organized, and when things are cluttered I get stressed. So I like to think that I have a pretty good handle on handling my junk. But even so, I found so much great information in Ruth Soukup's new book, Unstuffed. This is what my review copy looked like when I was finished:
So yeah, I had some takeaways. Here's one of my favorite nuggets about getting rid of stuff once and for all:
See, I'm really good at deciding to get rid of things. I'm less good at actually getting rid of them. I have a linen closet FILLED with things to get rid of. I'm saving them for some mythical yard sale that may or may not ever happen, because evidently getting twenty-five cents for my old glassware is more important than actually utilizing my closet.
Here are some other tips I picked up that I've already started implementing. I can't believe how much of a difference these little things really make!
1) Make your bed. Every morning. As soon as you get up.
2) Be ruthlessly realistic about what you use and need.
3) Go for quality over quantity.
4) Organize your computer desktop. Ruth suggests using this image to keep things tidy, and I love it!
5) Learn to say no.
There are so many amazing tips and insights in Unstuffed and I know there will be things that really resonate with you.
You can also sign up for the FREE Unstuffed 10 Day Challenge to get started on your home! I did this one, and it was great. Each day's task was brief enough that I was able to get it done quickly, but effective enough to make real progress.
If you get the book, you'll also get Ruth's full weekend challenge, if you can hack it. 😉
And finally, this book is about more than cleaning out your closets, it's about cleaning out your life. One of my biggest pet peeves is the glorification of busy. Because busy doesn't mean worthwhile or productive, it just means busy. And it probably means your schedule is full of clutter that can be unstuffed.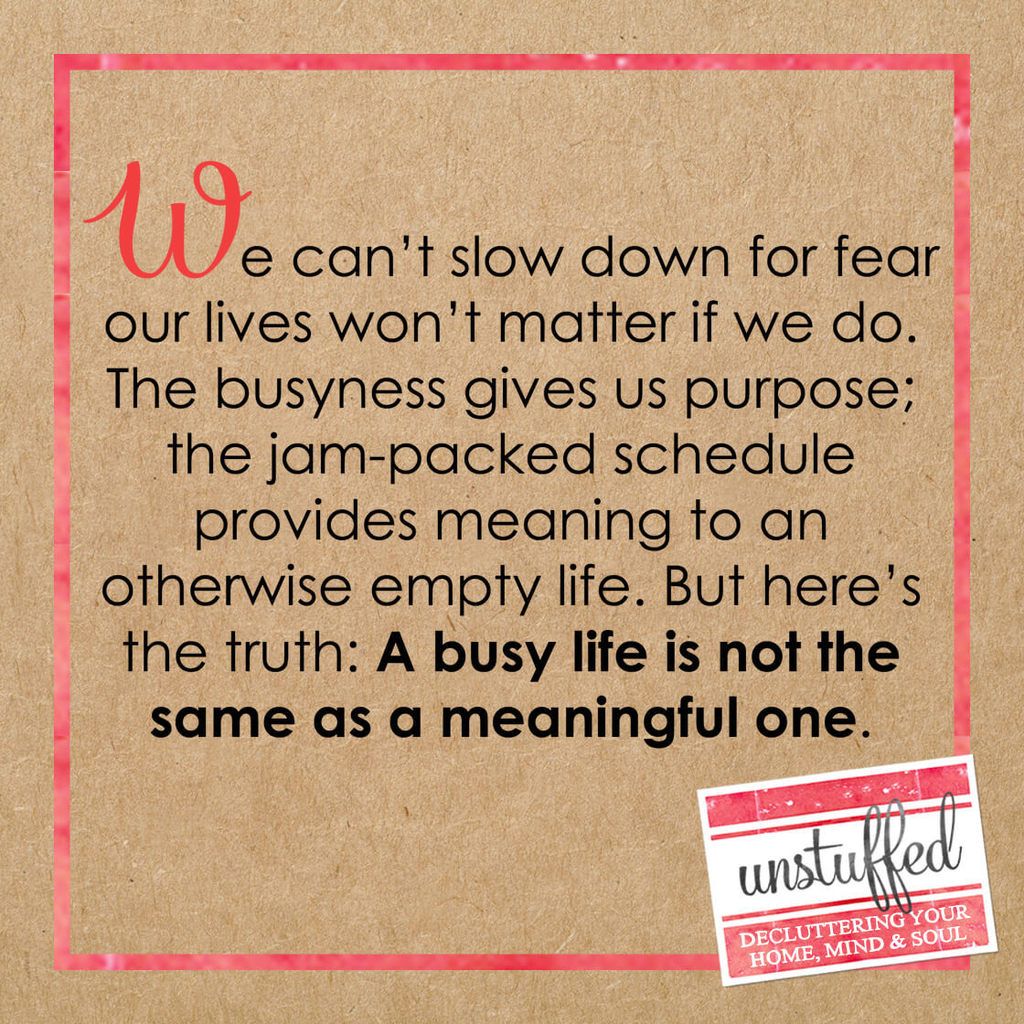 Declutter your home, mind and soul once and for all in Ruth Soukup's life-changing new book, Unstuffed. Through personal stories and practical action plans, she will inspire you to finally clear the STUFF that is weighing you down—once and for all.