15 Oct
So here's the deal, I love Sleeping Beauty. It's my favorite Disney movie, Aurora is my favorite princess, Merryweather is my favorite fairy, etc, etc, etc. But Aurora is constantly getting the shaft. Take the ear hats. The other princesses have ear hats. Ariel has ears and I've seen Cinderella, Belle, Snow White, and Tiana too. But no Aurora. Well if Disney won't make them, I'll make them myself.
Making my own Sleeping Beauty ears has been on my "to craft" list for a while, but I'd been procrastinating. Then the fabulous people at Holster Brands reached out and asked if they could send me a Hobby Holster. It's a silicone mat that clings to the side of your table and holds your hot glue gun. So then I needed a hot glue project, and my Sleeping Beauty ears came to mind.
Now, you may be wondering why my Hobby Holster is hanging over my dishwasher. Fun story. I used to have a dining room table. It wasn't anything fancy, but it did its job, which more often than not was holding crafts. I can count on one hand the number of meals that were actually served on that table. And after several years, the table was kaput. It had scars from Exacto knives, and globs of hot glue that just wouldn't come off. Since I have yet to replace the table, I'm using my kitchen counters to craft.
And craft I did. I didn't take as many in progress pictures as I would have liked, because I was trying not to burn myself with hot glue.
Here's how I did it:
Start with some basic Mickey Mouse ears
.
For the back:
Use one sheet of purple craft felt. Play around with it a bit to get the positioning the way you want it, then hot glue it on and trim away the excess.
Use one sheet of black glitter felt. Measure along the band of the ears and cut to the desired height and length, then just free hand cut some jagged vines and hot glue it on.
Here's a fun tip: Do you have stray hot glue strings on your project? Like these?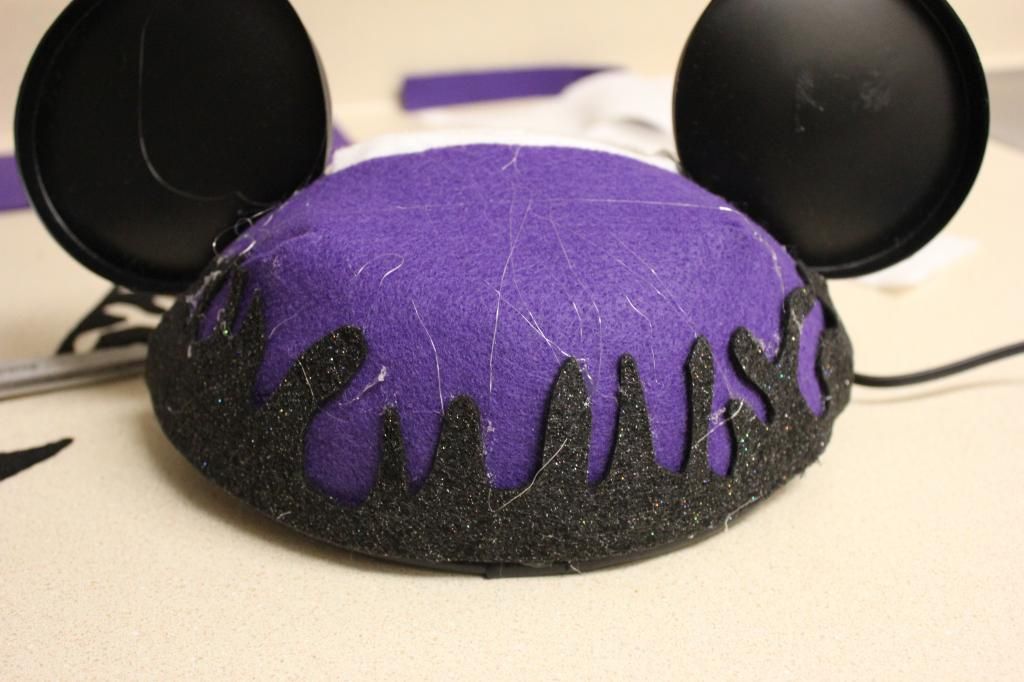 You don't want to pull at them, because especially on felt you run the risk of messing up your finished product. Hit them with a hair dryer, and they'll go away. See?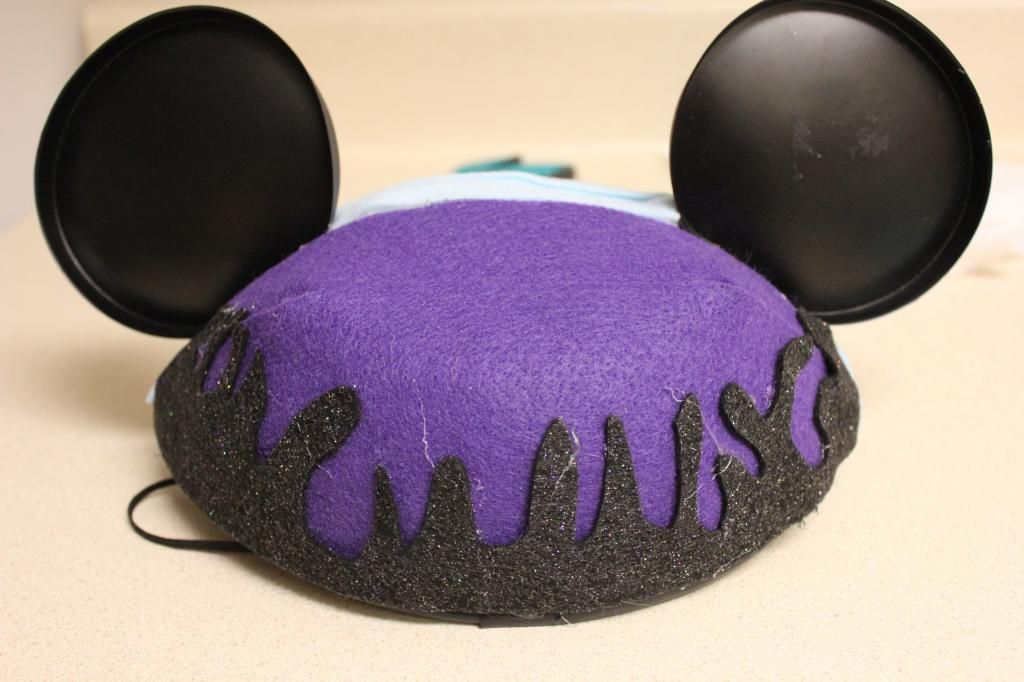 Next, hot glue your Maleficent patch
on.
For the front:
Use one sheet of white craft felt as your base so no black shows through. Use the same method you used for your purple felt to hot glue it on.
Use one sheet of light blue craft felt to cover the white – again, use the method that works for you, hot glue it on, and trim away any excess.
Use one sheet of glitter paper to trace the outline of Aurora's crown and cut it out. (It's basically an obtuse triangle with offset circles cut out halfway up each side.) You can get glitter paper at any craft store, it's usually with the scrapbooking papers. Don't peel the backing off of the glitter paper, just hot glue around the bottom of the crown. This way it will stand out a little and give you a three dimensional effect.
Then, add your fairy godmothers patch
to one of the ears.
And ta da! You're done!
Here's what I love about the Hobby Holster:
1. Your projects will be neater, because the glue doesn't stick to the silicone. I hate putting my hot glue gun on newspaper on the table and then you go to pick it up and end up lifting up the newspaper and it's just a whole ordeal.
2. Your table (or kitchen counter) will be saved.
3. You cannot pull this thing down. Trust me, I tried. I don't know how it works, but it sticks really well to the table top without leaving a mark or any residue.
4. When you're done, the hot glue will just pop right out of the holster. And your glue gun stays cleaner, too.
Here's what I love about my Sleeping Beauty ears:
1. There's glitter.
2. Merryweather
3. I AM SO CLEVER FOR PUTTING AURORA ON ONE SIDE AND MALEFICENT ON THE OTHER.
4. I used blue, because even though all of her merchandise shows the pink dress, the blue is far superior.
Disclaimer: Holster Brands provided me with a Hobby Holster free of charge. Opinions, crafts, and table destruction are all mine.