27 Mar
Okay, I'm about to get on my soapbox. I love books. I always have – I was the kid who got in trouble for staying up late to read with a flashlight under the covers. Books are great. You know what's not great? Censoring books. And that's exactly what a new app, called Clean Reader, exists to do.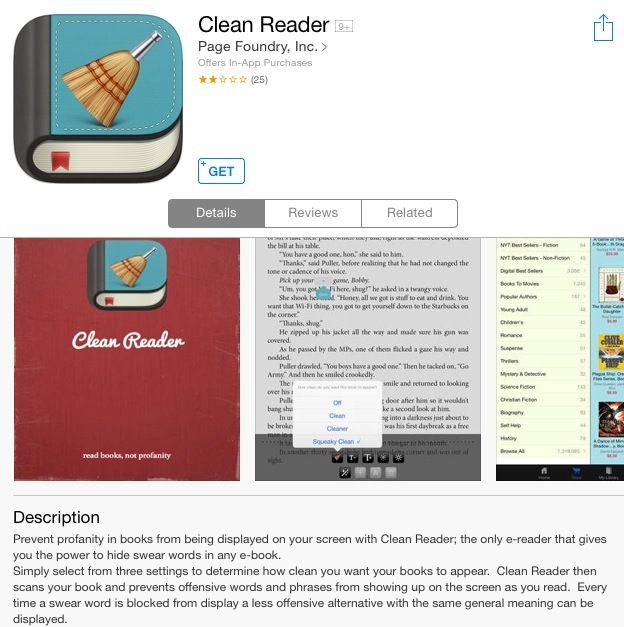 The basic premise is that Clean Reader will change out all of the dirty words in a book to be more appropriate. Appropriate for who? Good freaking question. This app was developed by two parents in Idaho after their daughter was uncomfortable with some profanity in a book she was assigned to read for school. We'll talk about that later. First I want to address the most common defense I saw on their Facebook page.
"I like the story, but I don't want to read the trashy/bad/dirty words."
Okay. Listen, if you're reading a book about sex and you change out all the dirty words, you're still reading a book about sex. So are you offended by the content or not? There are plenty of books written for a conservative religious audience. I know this because I've accidentally downloaded a few of them for my Kindle when I go on my free ebook sprees. They have religious themes, morally conservative characters, and no funny business. Read those if you're offended by bad words.
Now, to the root of this issue. Parents created this app because their daughter was upset by profanity in a school book. I have an alternative solution to this that is faster, cheaper, and easier than building an app. Talk to your kid.
Read the book yourself, and then talk to them about the power of language, the reasons an author might choose words, the underlying historical and cultural relevance. Talk to them about the emotions an author was trying to convey with their word choice. Ask them how they feel about the scene painted with those "profane" words versus the scene painted with "clean" language. If you don't know the answers or don't feel qualified to talk to your kid about this stuff, ask their teacher. I promise there was a reason the book was assigned beyond "it has dirty words".
I'd like to insert an anecdote here. My high school English teacher is one of the women I respect most in the world. She is a brilliant educator, and she knows more about the written word that anyone I've ever met. She helped me channel and refine my passion for the written word, hone my analytical skills, and expose me to genres and authors I love but never would have discovered on my own. She is also a deeply Christian woman, strong in her faith and proud of her beliefs. And she assigned a "dirty" book.
In the 10th grade, we read The House of the Spirits
. It's a fabulous book, and if you haven't read it yet you simply must. It remains one of my all time favorites. I don't remember any specific "profane" words, but there are definitely some mature themes. So why did my religious teacher assign this book? Because it is an important work of literature and she understood its value. (I didn't actually ask her why she assigned it, so I'm happy to edit this if she clarifies her reasoning.) The House of the Spirits stands on its own as a great work of literature, and it is even more important when we consider the historical and cultural context.
My point in sharing that story is two fold. First, to point out that one may have religious beliefs and still understand and appreciate great literature. Second, to illustrate an example of a relevant and important high school reading that may contain themes that some consider to be "profane".
So don't censor books. Don't ban books. Don't be afraid of what you don't understand or like. Explore the meanings of your reading. And, if you can't do that, just stick to the Christian book store.