20 Apr
I had a whirlwind weekend when Brother came to visit me for a few days. Yes, I actually call him Brother. That's not a blog name. His real name is Dean if you really want to know. (And he wants me to tell my hot friends that he's single.)
At any rate, he wore me out! I'm so tired I can't even remember everything we did but I know we went to Porto's a dozen times. And to burn off those delicious carbs, we decided to hike the Hollywood sign.
I live really close to Griffith Park and can't believe it took me so long to do this hike! I wanted to bring Teddy in his stroller, but Brother said that was a stupid idea and he wouldn't let me. It's a good thing, because I barely made it up that freaking mountain. I never would have been able to push the Bear up.
There are a number of trails to the sign to choose from, and we went with the Canyon Blvd Trail, which is a moderate hike.
What to Expect:
The first part of this trail is the toughest because the elevation climbs up pretty quickly. I'm not used to actually climbing, so this was tough for me. Turns out I'm much better – and faster – on flat land.
You will get to a point where you can choose to go up and hike around to the top of the sign to get the best views of the city, or you can go down to hike around near the front of the sign and get the best pictures. We went for the photo opp.
After that, you'll turn around and go back the way you came. It took us about half the time to get back down because it's downhill. But we weren't in a rush, and we weren't pushing to go fast. We were savoring the views of nature. Plus it was hot.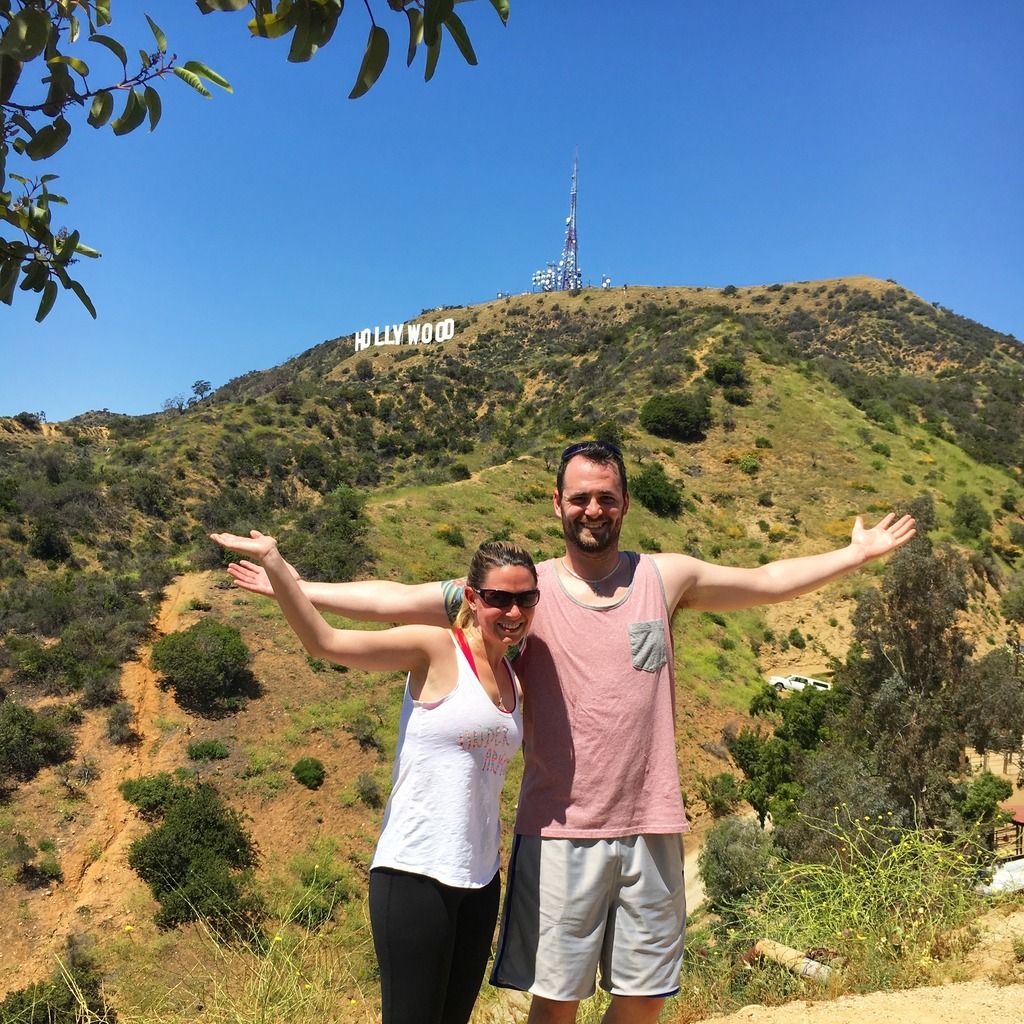 What to Bring:
For the two of us on an 85 degree day, we brought three bottles of water. I'd say that's the minimum you want to pack.
Bring sunscreen. Apply it when you get out of the car, and again at the turnaround point. Trust me.
Wear sneakers. The trail is hard packed but there is still a fair amount of loose gravel/sand/dirt/whatever so you want to have good traction.
And most importantly – have fun! The low route that we took to the front of the sign is a little shorter, about three miles each way, and it took us about three hours to do the full thing.