19 May
The post is sponsored, my love is real.
This fall, Enrique Iglesias and Pitbull are hitting the road for what's sure to be an amazing tour, and they're playing TWO dates in Los Angeles. That's right, you can see them Friday, October 10 or Saturday, October 11 at the Staples Center. Get all the tour dates and ticket info.
And why should you be so excited for this tour? Here are just a few of the reasons I love Mr. Worldwide.
1. His Name
Ummm….. his stage name is Pitbull. Need I say more? Yeah, I didn't think so.
2. His Smile
I don't know if this is how he got his name, and I don't want to look it up and ruin the magic, but I like to think he calls himself Pitbull because they both have great smiles.
I mean really, look how happy he is!
3. The Timber Video
This video is the most accurate representation of Florida I have ever seen in the media.
Beach, dive bar, random livestock. Yup, that's where I'm from!
4. The Suits
No saggy baggy pants and nightgown t-shirts for this man.
Oh no, this is a man who knows how to dress. You can take him to a white tablecloth establishment, no problem.
5. He Built a School
Say what you will about charter schools, but homeboy built a school in Miami to encourage kids to learn. Winning.
6. Duet with Xtina
Because, yeah, I still fangirl Xtina. And the song is great.
7. Timber
Is it weird that Timber is on the list twice? Whatever, it's my list, I make the rules. You know I love me some Kesha, and damn if that song isn't catchy. If it had come out ten years ago I would have been the annoying girl screaming "OMG THIS IS MY SONG" every time it came on in the club.
8. He's Awkward
Pitbull is kind of awkward, but in an adorable way where you know he's in on the joke.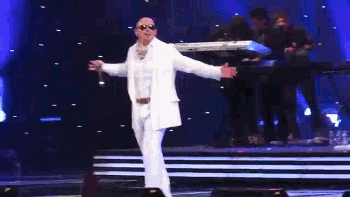 I love how he's just like, "Yeah, this isn't my part, so I'm just gonna half dance for a while." Because really, what else are you supposed to do when it's not your turn to sing? This isn't even the best example of his "it's not my turn" dance, but if you've ever seen him perform you know exactly what I'm talking about.
If you love Pitbull like I do, you won't want to miss this tour. So get yo tickets, stat.
Disclaimer: This post is sponsored by AEG. All insanity is my own. Pitbull had nothing to do with this. Seriously. You think he would have asked me to write this nonsense?