15 May
After my post about a Sleeping Beauty inspired outfit for Disney, the fabulous and talented AJ asked me to do one for Belle. So here it is!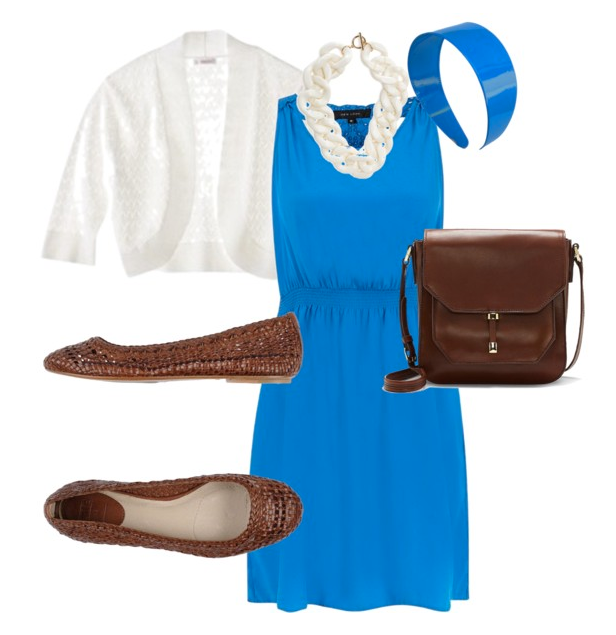 Here's the rundown….
Your base is a blue cotton dress – twirly skirt mandatory. This will be light and airy, and will allow you to whimsically twirl. And really, those are considerations you should always be looking for in dresses. Top off the dress with a lightweight white cardigan as a nod to Belle's apron and blouse. Because who wants to wear an apron?
Belle wore brown ballet flats, which are comfortable and practical for a day at Disney. But I mixed it up a bit and went with a woven version. They're lighter and more airy, so your feet won't get so hot. And yes, it makes a difference.
A blue headband takes the place of Belle's blue hair ribbon, because hair ribbons vex me. Seriously, they never stay put. The chunky white necklace is just plain fun.
And finally, what might be my favorite part of this outfit, the structured brown leather cross body bag. Carrying a basket like Belle did is just flat out impractical, and I love that this bag looks very academic. I think the lady would approve. It's small enough to be convenient, but big enough for all the essentials. Plus, I love a cross body style for theme parks because it's just so easy.
So there's your Belle inspired outfit perfect for a day at any Disney park! Who do you want to see next?