8 Oct
I hesitated to write this post, because I hate jumping on a bandwagon. But after this week's Saturday Night Live I had to say something. Because guys? Miley killed it.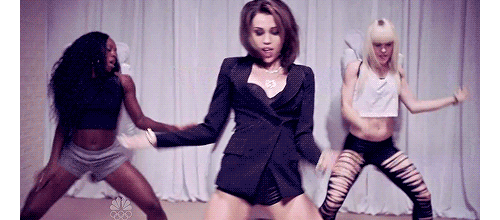 I hate it when people get up in arms because young celebrities are supposed to be role models. They're not. Your kids should not be looking for role models at the VMAs.
Miley is 20, and let's face it, she has a rockin' body. Miley, be as naked as you want and document it all. That body won't last forever and you'll want to look back on the pictures.
And I don't care if she's taking molly, or smoking molly. I'm still not really clear on what it is, so I don't know how to phrase that. Again, she's 20. Do it while you can, honey, just be safe and don't hurt anyone. (To be very clear, I'm not advocating drug use, I'm saying I don't care if she does it. And I still don't really know what it is.)
But back to SNL. It's always fun to see a "trainwreck" celebrity who's in on the joke. (See: Lindsay Lohan hosting Chelsea Lately over the summer.) Miley gets it. She explained that she sticks her tongue out because she's having tiny strokes, yo, and the only people she's going to apologize to are the ones who make the bottom half of shirts. I think she also owes an apology to the people who makes pants, but whatev, not my call.
The highlight was, hands down, the parody of "We Can't Stop". Miley Cyrus as Michele Bachmann just became the hottest Halloween costume of the year. It's brilliant, and I can't stop watching it.
It was amazing, and excellent, and fabulous, and all those other great synonyms. And girlfriend can sing. "Wrecking Ball" was great, and I need her stripped down version of "We Can't Stop" right this very second.
So Miley, go on with your bad self. Have fun. Enjoy yourself. Ignore your haterz.