25 Mar
There are a lot of perks to living alone – I always get to watch whatever I want on TV and no one ever moves my stuff. But there are some downsides, and one of them is that it's hard to cook for just one person. Frozen foods help me eat fresh without worrying about spoiling or making four trips to the grocery store every week. So when ConAgra asked if I would be interested in trying out something new from Healthy Choice, I jumped on it!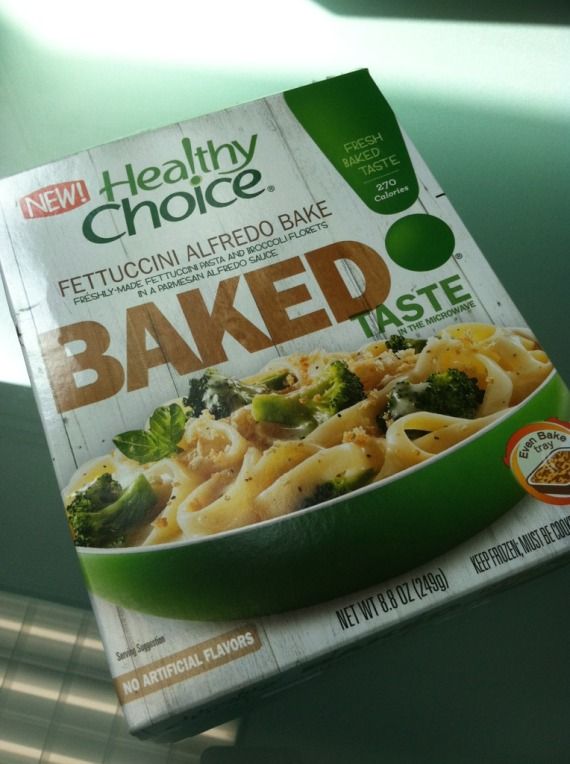 Have you seen these new Healthy Choice Baked meals? They have a special tray that really does simulate oven baked taste from the microwave in four minutes. Because who has time to bake something in the oven at lunch? I tried the Fettuccine Alfredo Bake and it was so good!
I know in commercials they always put these meals on a nice plate, but I left it in tray for the picture for two reasons. One, I want to show what it really honestly and truly looks like (yummy), and two, I hate doing dishes.
It had noodles and a cream sauce (obviously) with broccoli and a bread crumb topping that crisped up really nicely. The broccoli was probably my favorite part, because I love broccoli. It was crunchy and delicious, which is good, because who wants limp gross broccoli?
I love how easy it is to eat well with frozen foods. So often by the time I get home from work I just don't have it in me to cook. I'll admit to sometimes eating crackers for dinner. Hey, I live alone, I can eat crackers if I want to. But why would I want to when it's just as easy to microwave a Healthy Choice dinner? Check out how two "women of the future" use frozen meals to help them stay on schedule. As a sidebar, I really want those glasses.
ConAgra Foods frozen meals give families access to real ingredients like crunchy, freshly cut vegetables, homemade pasta and ripe fruit year-round. Just like most people blanch veggies before freezing them – ConAgra Foods does too – to help preserve color, texture and keep them fresh!
Give it a try sometime! Marie Callender's hearty pot pies are filled with tender meat, freshly cut vegetables and Marie's authentic golden, flaky crust. And Healthy Choice recipes use chef-inspired ingredients like, apples instead of sugar for tart sweetness and a splash of red wine for a punch of flavor instead of added salt.
This is a sponsored post written by me on behalf of ConAgra Foods.