13 Mar
Love it or hate it, Timeline is coming to pages! You can preview it now, and choose to go live at any time. But, no matter what you do, Timeline will go live for all pages on March 30. Here's what you need to know.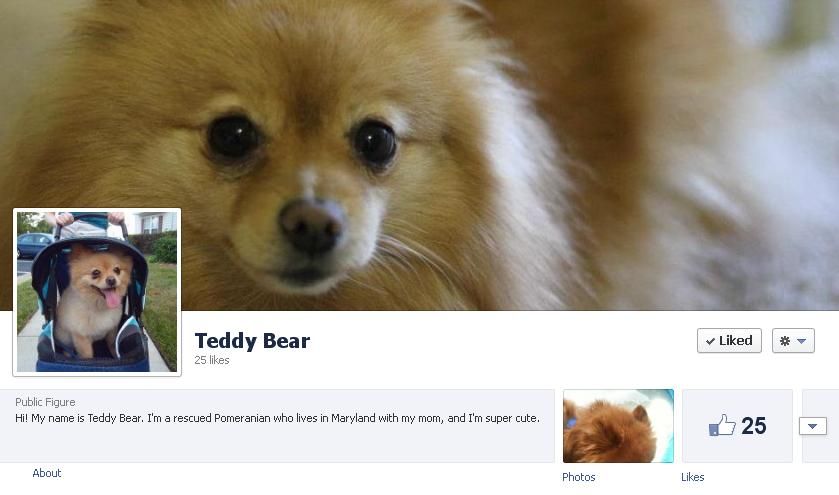 Yes, I did create a page for my dog just so I would have a screenshot to use in this post.
Cover Photo
The big cover photo is a GREAT way to show off the personality of your blog. There are some really cool examples of things you can do with your cover photo at Inspiration Feed, and Beth Kanter has a great template that you can download to create a coordinated cover photo and profile photo.
While this is a great way to let people learn more about your blog with one glance, there are some rules. Of course there are rules – it's Facebook! Here are the biggies:
You cover photo cannot have/be:
* Primarily text-based
* Infringe on others' copyright
* Price or purchase information, such as "40% off" or "Download it at our website"
* Contact information, such as web address, email, mailing address or other information intended for your Page's About section
* References to user interface elements, such as Like or Share, or any other Facebook site features
* Calls to action, such as "Get it now" or "Tell your friends"
* False, deceptive or misleading
* Infringe on third parties' intellectual property
* Encourage or incentivize people to upload your cover image to their personal timelines.
* Contain promotions, coupons, or advertisements
* Cannot include arrows or text to direct people to tabs or to take a specific action
Notice that you cannot put your web address on your cover photo! I've already noticed quite a few cover photos – even some from big brands – breaking this rule.
Landing Tab
When Timeline goes live, you will no longer be able to direct people to a landing tab – everyone will see your Timeline, so make sure it's good! You can still have custom tabs, and now they can be even wider, which gives you more room to get creative.
You will have the option to "pin" posts to the top of your Timeline, so they'll show up first for a week. You can always go back and "re-pin" it after that week is up! This is a great way to showcase a post with your blog's elevator pitch, or to link people to a custom tab with more information.
Milestones
Milestones are one of my favorite features of Timeline. You can go back and add major events from your blog's life – your first post, speaking gigs, sponsored campaigns, blogging trips, conferences, guest posts, redesign, changing hosts – get creative and have fun with this feature!