9 Nov
Christmas already? Well, if you're anything like me, you start thinking about Christmas the second November rolls around. For the past few years I've done a gingerbread theme for my Christmas decorations, but this year I decided to go in a totally different direction. Since I'm not about to pay full price for Christmas decor, I'm going to be making most of it myself.
First up, ornaments! I made five different styles, for a total of twenty-two ornaments. Using Meg's method of calculating cost from her $20 Crafty Christmas Tree Challenge, my total was $13.74. Plus, I still have materials left over to make more.
I started simple with these toilet paper roll starfish. Just cut your roll into slices – however thick or think you like – glue them together, then paint them and tie a ribbon on! Tip – use clothespins to hold your starfish together while the glue dries.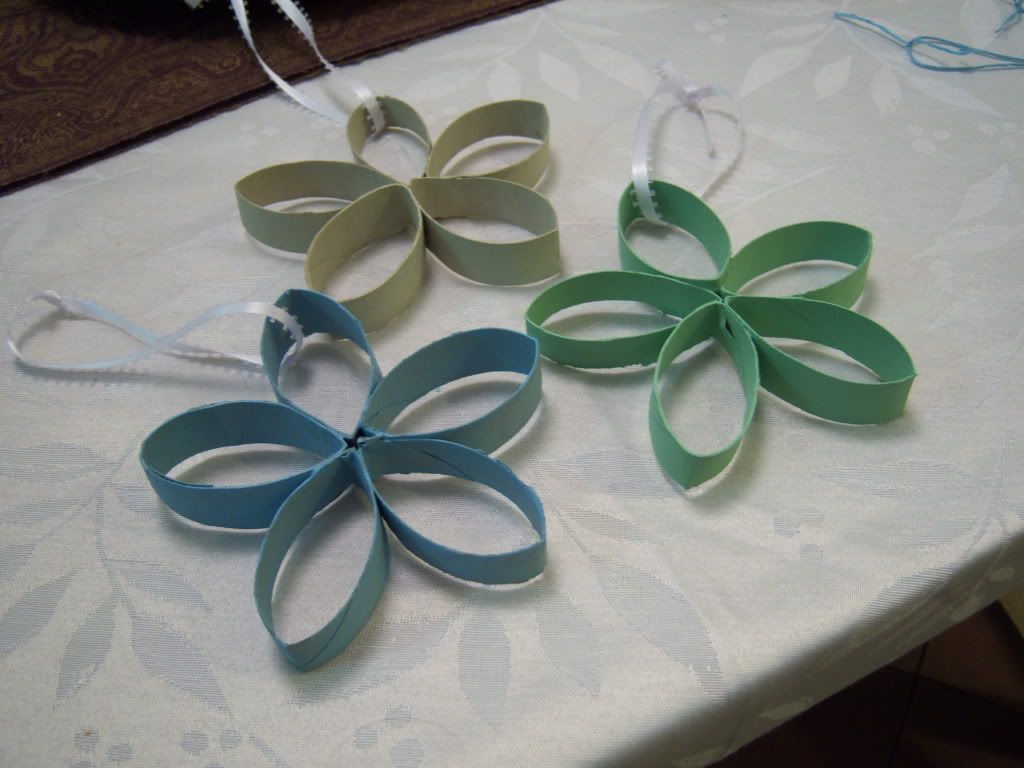 Next I whipped up a batch of salt dough (1 cup flour, 1/2 cup salt, 1/2 cup water – bake at 250 for 2 hours) and made these seashells and one lone starfish (his buddies broke). My dough was too sticky to roll out raw, so I baked it for 45 minutes, then cut my shapes and finished baking. After the were done and cooled, I used glue and unity sand (found in the wedding section of Michaels) to detail the shapes.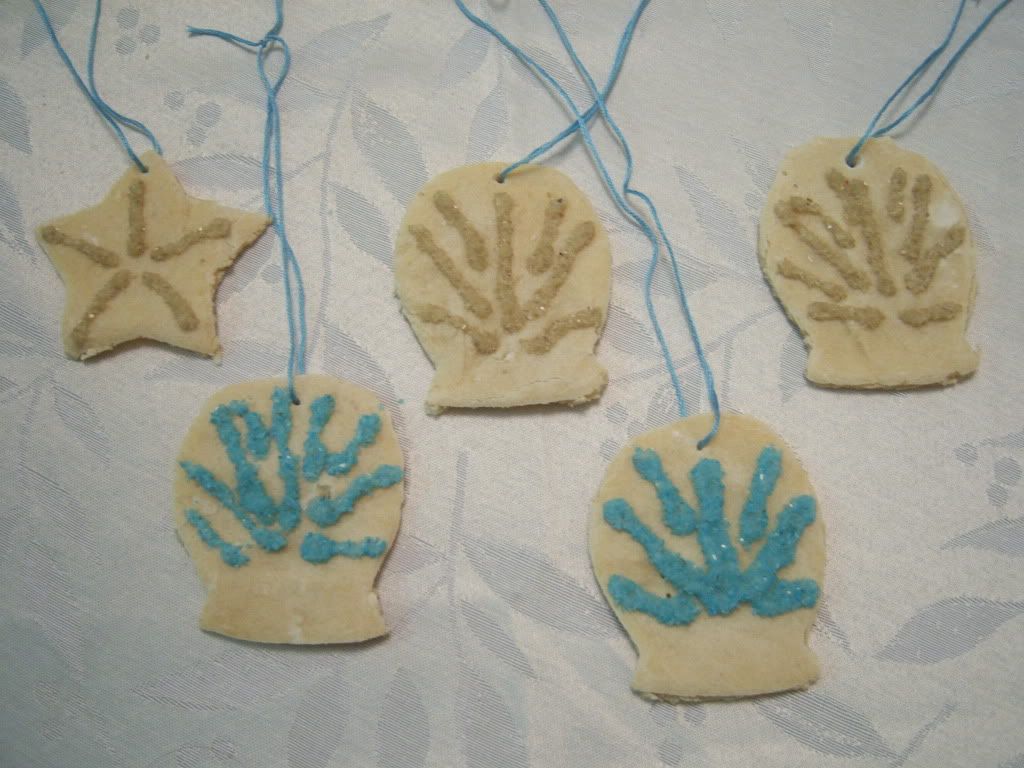 I bought a six-pack of these icicle ornaments at the Dollar Tree for 75% off a few months ago, knowing I would find some use for them! I filled two each with my different colors of unity sand, and left two empty. I love how they look like those spiral seashells.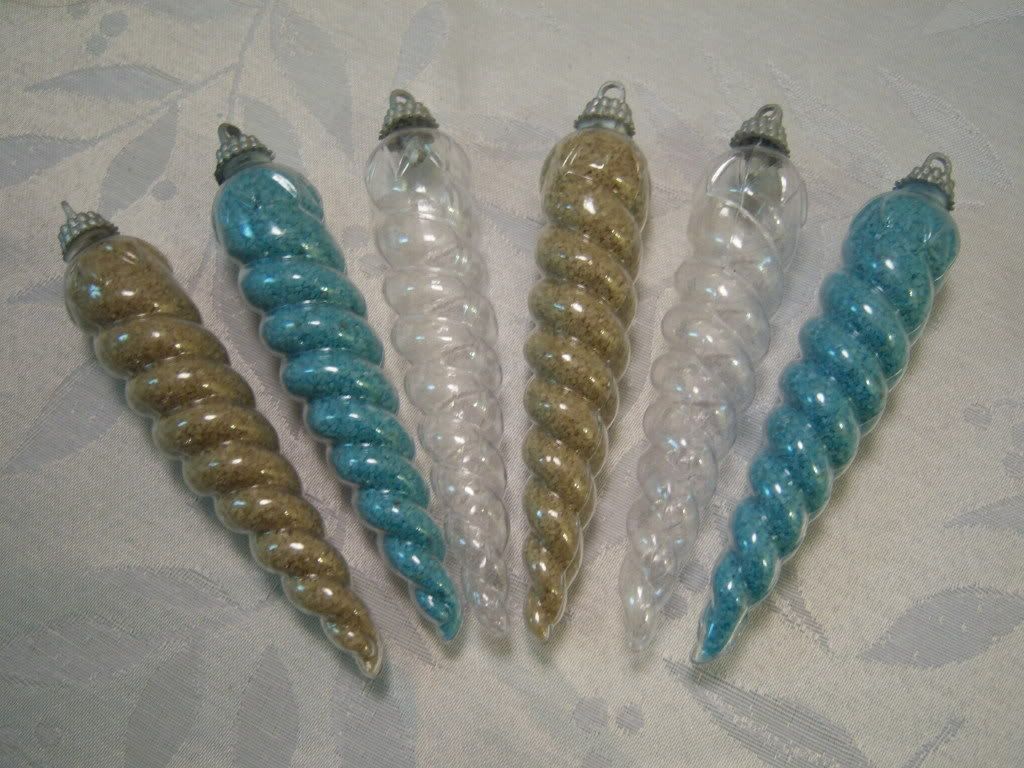 I saw these fabric wrapped ornaments on Dollar Store Crafts yesterday and had to make some for myself! I used some ornaments that I got in the Dollar Spot at Target last year and wrapped them with fabric scraps, then tied them off with ribbon. I think they look like little packages, and will be adorable on the tree!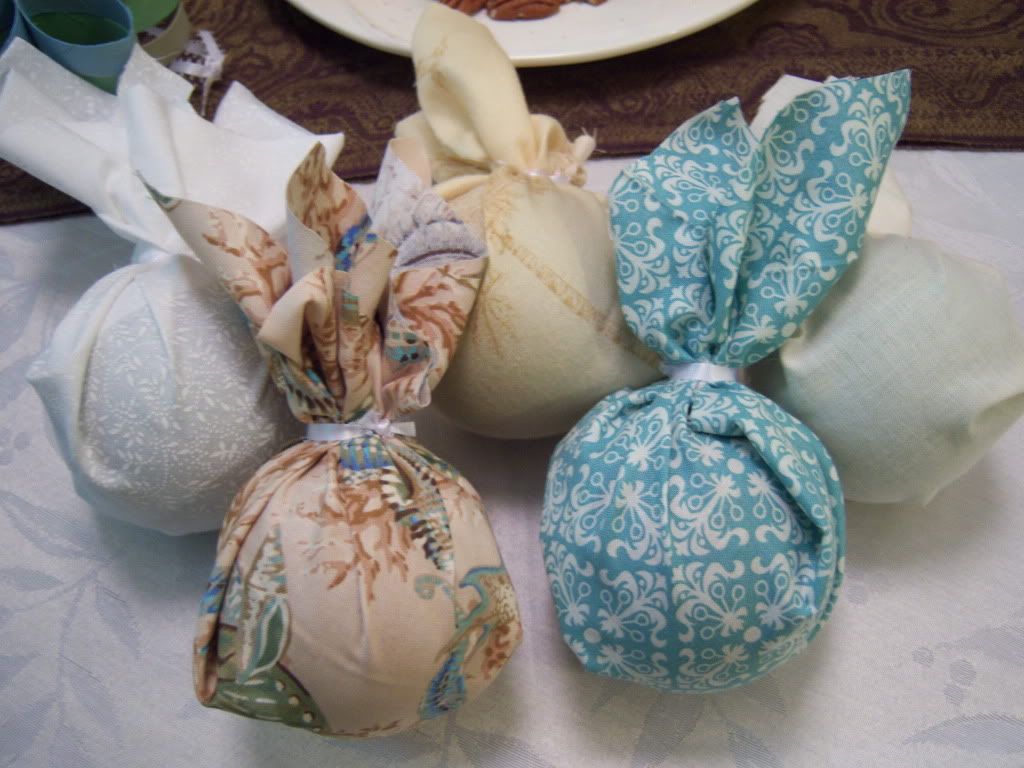 Finally, you know I just had to do something with felt! I cut out some basic shapes, did a little bit of freehand embroidery, then sewed them shut with a blanket stitch and the tiniest bit of stuffing. I think the whale is my favorite. 😉 I'm probably going to make more of these, if only because I love doing a mindless blanket stitch while I watch TV.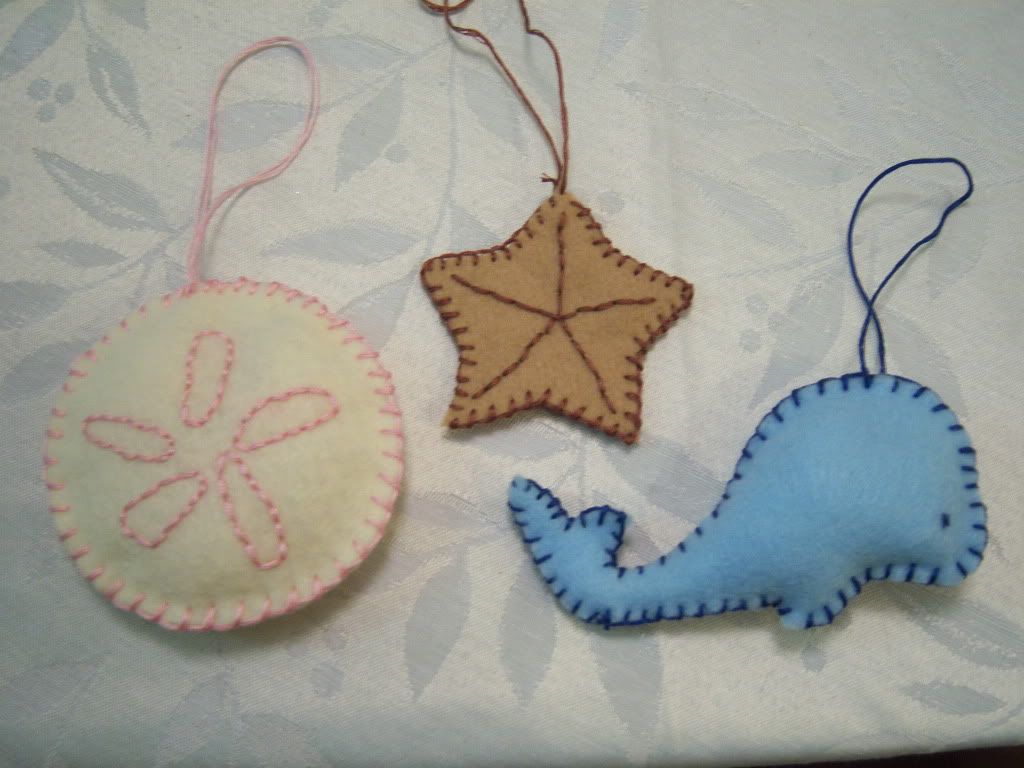 So there you have it – twenty-two ornaments in five styles for less than $14! If you're wondering about the breakdown, here it is:
Toilet Paper Starfish
* toilet paper rolls – on hand
* paint – on hand, left over from other projects
* ribbon – $0.50
Salt Dough Ornaments
* flour, salt, water – on hand
* glue – on hand
* unity sand – $4.99 each (These bottles are 25oz each and I have TONS left over.)
Icicles
* icicle ornaments – $0.25
* unity sand – from above
Fabric Wrapped Ornaments
* ornaments – $1
* fabric scraps – on hand
* ribbon – from above
Felt Ornaments
* felt – $0.34 per sheet, three sheets used
* embroidery floss – $0.99 for three
* stuffing – on hand, left over from another project (you could also use felt or fabric scraps)