3 Apr
After lusting after all of the beautiful book page wreaths that I've seen floating around the bloggy world for months, I FINALLY got my act together and made one for myself! I'm so thrilled with the way mine turned out – I can't stop staring at it! I played around with where to hang it for a while and finally settled on the little hallway between my laundry room and living room. I always come and go through the garage, which is through the laundry room, so this way I get to see my beautiful wreath every time I enter or leave my house.
I used a foam wreath form from the Dollar Tree, and the same book that I've been using for all of my book page crafts, so my total cost for the project was only $1.00!
Here's how I made the little rolls/flowers/leaves… I used a staple to hold them together, because it was easier than glue.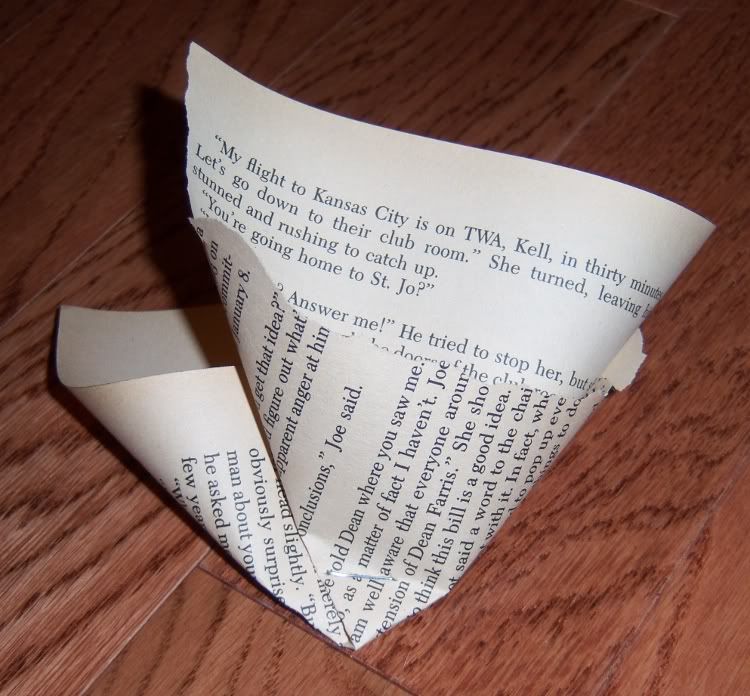 And here's a whole bunch of my rolled book pages (they kind of look like little birdies about to take off)…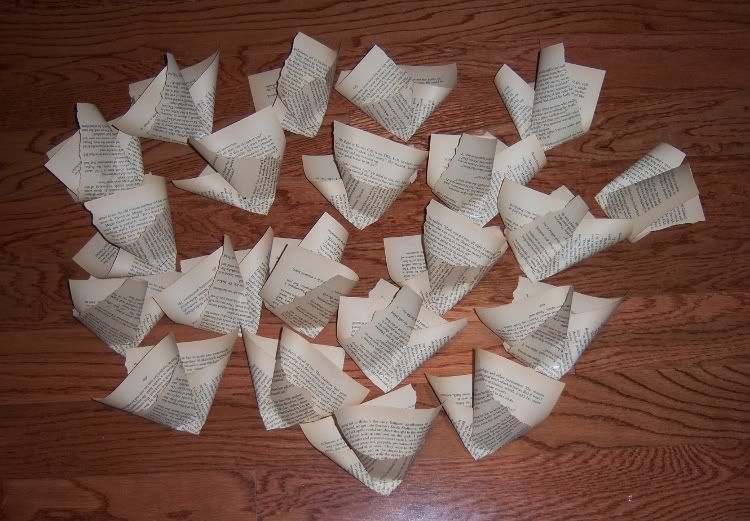 And, ta-da, the finished product! Once again, I absolutely ADORE the browned look of these antique pages, plus, they have gold gilt edges that you can't really see in these pictures. If you're ever going to make one of these, or any book page craft, I would strongly recommend doing what I did and grabbing an old book from the reject pile at your local used bookstore.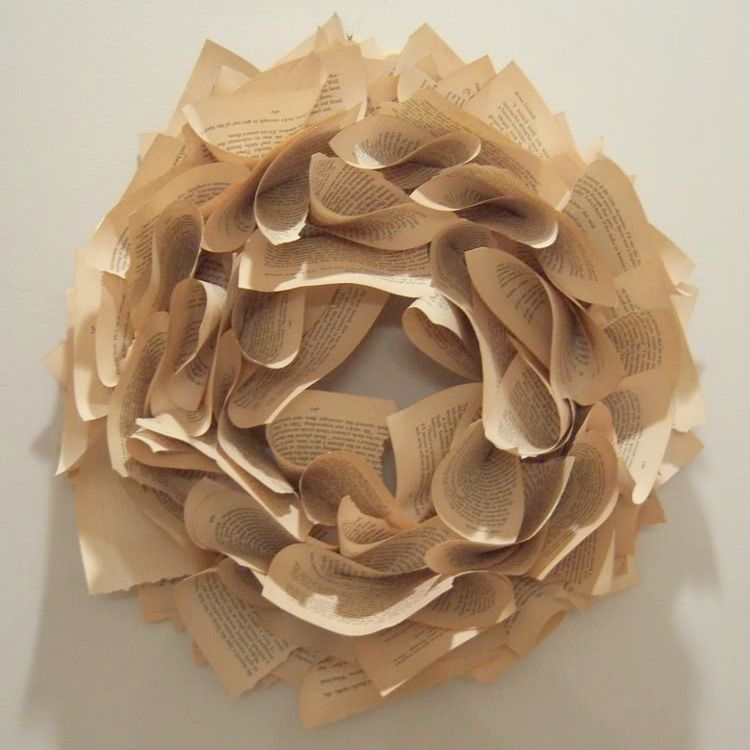 Now, I originally wanted to do a tutorial for this with lots of photos, but that didn't quite work out. See, after the stapler worked so well to hold the rolled pages together, I decided to just try stapling the pages to my foam wreath form. Not only did this not work (the staples didn't bend, and so they just popped right out of the form), but I also stapled my hand and nearly bled all over my beautiful wreath. At another point, after settling on tacky glue to hold the thing together, I rubbed my eye and got tacky glue in my eyeball.
So yeah, no tutorial. I'm just glad I survived this one! 😉
But, if you do want to learn how to make your own amazing book page wreath, check out these tutorials!

Book Page Flower Wreath at Lemon Tree Creations

Book Page Wreath at Living with Lindsay