14 Dec
>Welcome! Today is the bloggy tour of Holiday Homes, and of course I have to share my decorations! They're not as fancy or "perfect" as some of the blogs I read, or the home decorating shows I watch, but they make me smile, and that's what matters.
So come on in and make yourself comfortable! Go on, put your feet up, I don't mind. Can I get you a Diet Coke? (That's seriously the only thing in my fridge right now, I guess I need to go grocery shopping…)
I collect gingerbread men, so that's what most of my decorations are.
First up is my tree. It doesn't have a topper or a tree skirt yet, and to be perfectly honest it probably won't!

Why oh why is it so hard to get a good picture of a tree with the lights on?!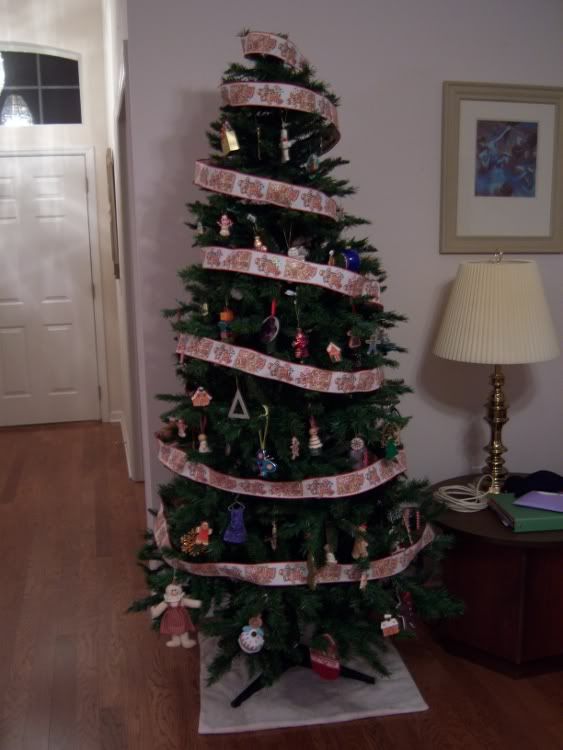 This one is much clearer, but I love the way it looks with the lights on!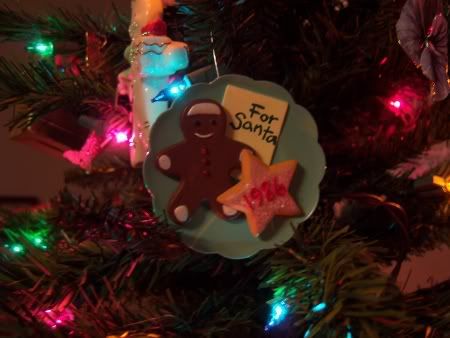 I love this ornament (I was born in 1986). My mom found it on eBay for me a few years ago.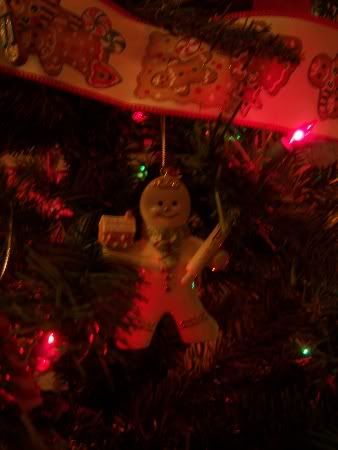 This is one of my Lenox gingerbread men. My mom collects Lenox (she has a whole tree of it!) and every year she gets me the new Lenox gingerbread man. I love that it combines her holiday collection and mine.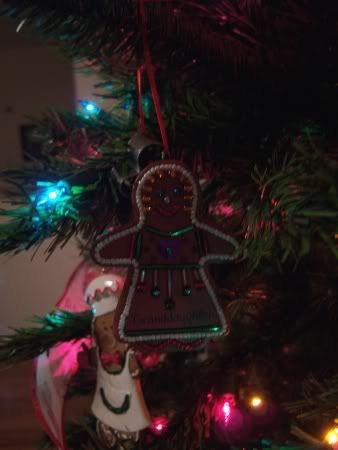 This one is from my beloved grandmother, Mimi.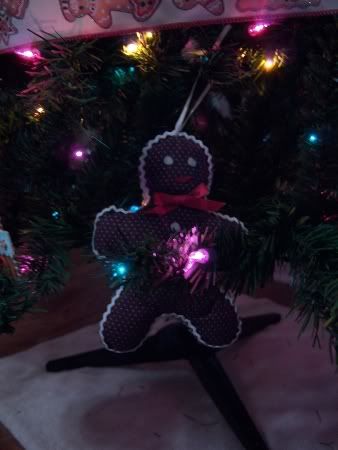 This guy just might be my favorite, he's been on the tree since I was a little girl and it just wouldn't be Christmas without him.
Now for the rest of the decorations! I like to spread the decorations out through most of the house, so I have little collections all over the place.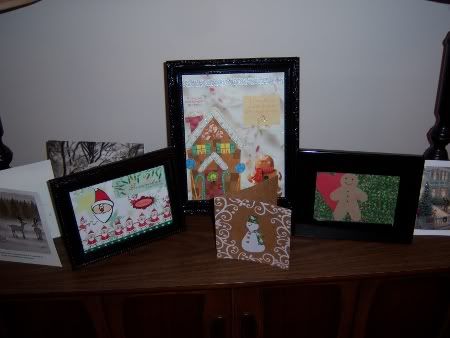 This is my credenza in the breakfast nook, where I display some holiday cards. You might remember those picture frames from my Autumn decorations, and I just updated them with some Christmas inserts.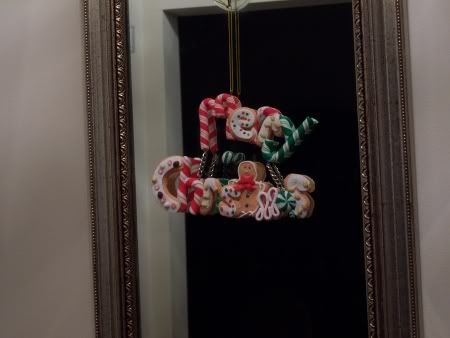 This cute little sign is hanging from the mirror in my entry way.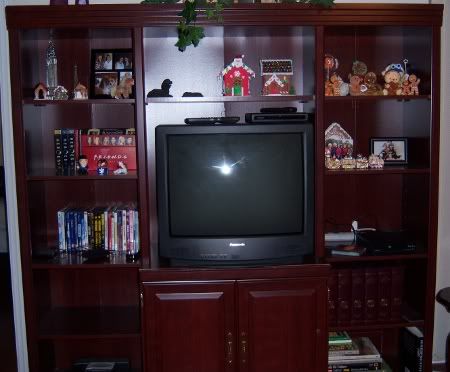 This is my entertainment center in the living room – I swapped out most of the knick-knacks for holiday things.
Here's some close-ups of a few of the shelves….

Gingerbread Doggie Village. That's a Standard Poodle (my parents' sweet Charlie) and a Papillon (my Jack), with another little house in there because it's the same scale and I like things in three's. 😉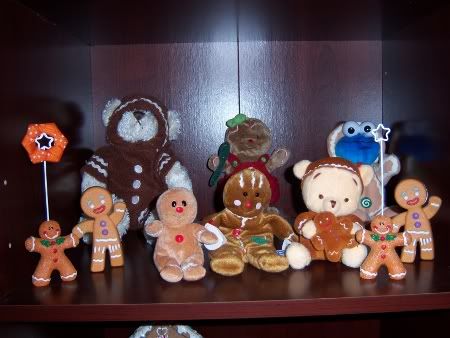 Stuffed gingerbread and other cute little guys.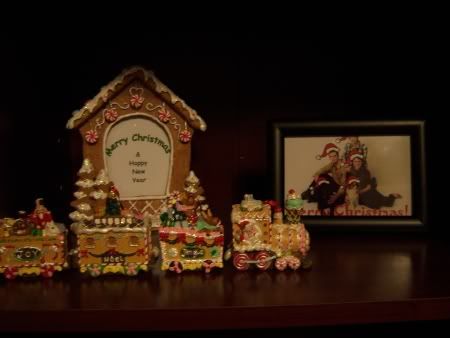 Gingerbread train and some holiday photos. That one in the black frame is actually last year's gift to my mother – I went back and photoshopped Santa hats on everyone.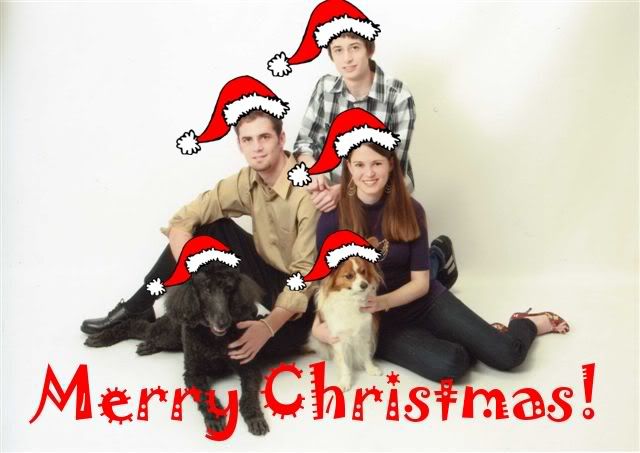 This is the image that I messed with – I think it's fun.
And finally, the dining room! I love having a formal dining room, and for the holidays I wanted to keep it in shades of gold, bronze, and brown (like it is year-round).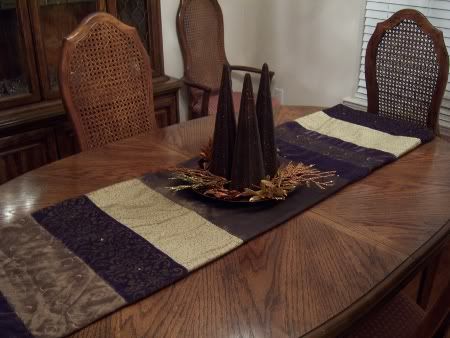 Holiday center-piece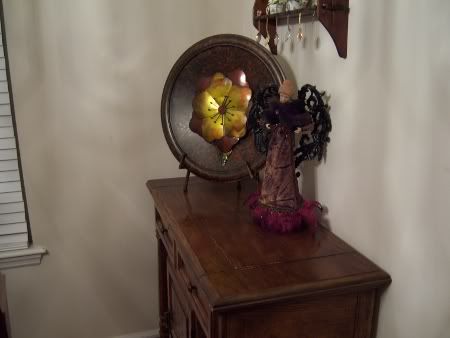 This angel on my buffet is actually a tree topper, but she doesn't match my tree, so she lives in here.
Thanks so much for letting me share! I'm linking up to The Nester's Christmas Tour of Homes, and also to Christmas Trees at A Baby Changes Everything as part of the Holly Bloggy Bash.
Tomorrow I'll be sharing my kitchen table-scape and some other fun Christmas crafts!