16 Apr
There are so many blog posts and articles about what not to do on Twitter. (Just say no to auto DM's!) But I haven't seen a ton of great resources to tell people what to do on Twitter to attract new followers. I'm not suggesting that my tips are the final word on how to run your Twitter account – you have to do what's right for you. I'm just sharing some of the things that make me want to follow a Twitter account.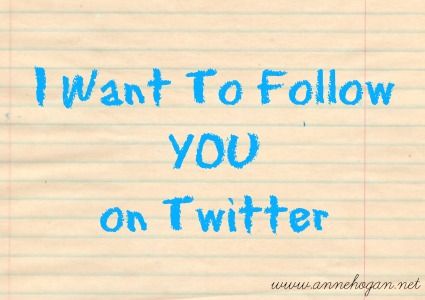 Header Photo
You got rid of the egg, and that's great, but let's take it one step further. Upload a header photo! As Twitter rolls out their new profile pages, the header photo will be even more prominent, and you want to make sure you've got something up there. This feature has been around for a long time now, so no more excuses.
Follower Ratio
This one is sticky, and I know a lot of people have a lot of different opinions. I don't think there are any hard and fast rules here. That said, if you have 200 followers and you're following 1,000 accounts, I'm probably not going to follow you. A ratio like that signals to me that you're either not very active on Twitter, you're only tweeting links to your own content, or you're not engaging. It's nothing personal, but I'll probably move on.
Interact!
That leads nicely into my next point. My favorite tweeps are people I talk to. Shocking, I know. But if I look at your timeline and see nothing but links (especially to your own content) or no @ mentions, I probably won't follow. I want to follow people I'll engage with and will make Twitter fun for me. So talk to people! Trust me, it makes Twitter much more fun.
Personalize Links
If I look at your timeline and it's nothing but a feed of auto-tweeted links, why would I want to follow you? Why wouldn't I just follow whatever feed you're tweeting? Twitter is a great place to share cool/interesting/newsworthy things you find online, but add your own commentary. Tell me why YOU thought that piece was worth sharing. If I want CNN's headlines, I'll follow CNN. I'm following you because I want to hear from YOU.
How about you? What are some things that make you want to follow someone on Twitter? Oh yeah, and if you're feeling so inclined, you can follow me at @Anne_Hogan.